Razer's Glowing Mousepad.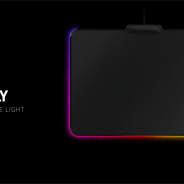 Recently Razer released a new gaming peripheral called Firefly
. This new gaming mouse pad is a very flashy alternative to the generic mouse pad with pictures of kittens. The Firefly matches perfectly with all the fancy glowing keyboards and headsets that gamers use everyday. It is also a high quality mouse pad which is designed for hardcore gaming.
The Razer Firefly has 6-bit RGB customisations to allow for 16.8-million colour options. Tweaking is similar to many of Razer's other Chroma RGB peripherals in that all the hard work is done in the Razer Synapse software. For hardcore Razer fans the company allows for lighting effects to be synced across multiple devices so users with a Chroma RGB headset, keyboard and mouse can enjoy a synchronised light show. The Firefly features an LED lighting strip around the entire perimeter of the surface which is USB-powered and controlled.
For further information about the Firefly you can click this link here: Read More… 
Remember to like our Facebook page to get the latest updates on gaming laptops..